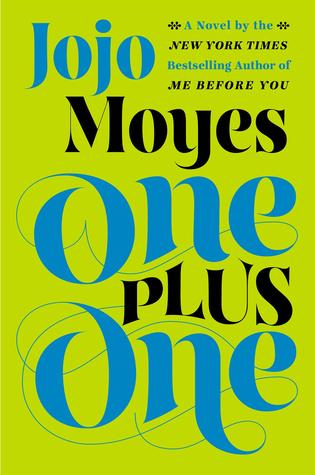 This is another book in Moyes arsenal that hits hard and doesn't apologize for what it is: a story about the strength of a family being a one family – no matter how strange and seemingly unfitting ways the pieces go together.
In ONE PLUS ONE, Moyes introduces us to two people who are in a downward spiral.  There's Ed, a man who could be loosely classified as a bit of a geek, and there's Jess, a woman who ended up with quite the mis-matched pair of children and one heck of a wayward ex.  I can hear what you are thinking right now – sounds like a typical love story: richer man meets poor, working mom and needs help and he sweeps in to save the day.  Let me save you the trouble and say that, while some of that might be true in a sense, you really have to give Jess credit here.  She works hard and I found myself rooting for her from the first page.
That's not to say she's perfect.  Between trying to help the son of her ex who she has assumed responsibility for, trying to do what's best for a daughter who is a whiz when it comes to math, and trying to give her ex the time he needs to get back on her feet, she somehow manages to juggle quite a few jobs.  Quite frankly, Jess is barely hanging on.  And when you are barely hanging on, decisions are made that one might regret later.
Ed, in a sense, is also barely hanging on, and due to a very poor judgement call, he does something that puts everything in danger – his company, his life, his wealth, and his family relationships.  So what better way to hook a reader than to throw these poor, tired individuals together in an Audi and send them on a road trip that can go no faster than 40mph along with a teenager, a girl who gets carsick at fast speeds, and a farting dog.
Even if contemporary lit isn't your thing and you roll your eyes at "Best-selling" on the front of any book, please do me a favor and give ONE PLUS ONE a try.  I think you may find yourself hooked, much like I did.  Every time I pick up a book by Moyes I dread it until I read the first page and then I remember why I put it on my pile to begin with.